Apart from being one of the best young actors of our generation, Timothée Chalamet has proven he has the ability to pull off a very wide range of different characters. Chalamet entered the Hollywood radar relatively recently with his lead performance in 2017's Call Me By Your Name, for which he received an Academy Award Nomination for Best Actor (making him the youngest person to be nominated for the category in almost 80 years). However, Chalamet has already stolen all of our hearts with his striking talent and memorable roles. Let's look back on the top five best characters he's played.
5. King Henry "Hal" V
This year, Chalamet made his Netflix debut in David Michôd's The King. Sporting a bowl cut with unflinching confidence, Chalamet portrays a moody and reluctant King of England. Although it was strange seeing Chalamet without his usual mane of hair, his delicately crafted performance assured us that he's the same actor we know and love. His delivery of Shakespeare's iconic "England is you" speech is undeniably the single most powerful moment of the film.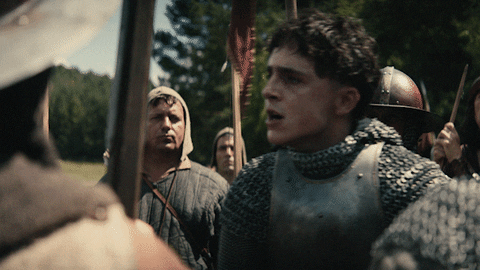 4. Billy Mitman
Let's throw it back to 2016, just before Chalamet took the world by storm with his incredible work the following year. In an indie film called Miss Stevens, Chalamet plays Billy, a quiet and cynical young student who travels to California to participate in a drama competition. Throughout the movie, Chalamet brings a stunning level of physicality and purpose to the character as he helplessly falls in love with Miss Stevens, his teacher and chaperone. Towards the end of the film, Chalamet performs a monologue from Death of a Salesman for the competition that leaves the entire room -- and all of us watching -- speechless.
3. Nic Sheff
Beautiful Boy is a very fitting name for a movie starring perhaps the most beautiful of boys: Timothée Chalamet himself. In the 2018 biographical film, Chalamet takes on the role of Nic Sheff, a teenager who spirals into a destructive opioid addiction that puts a strain on his relationship with his family. Chalamet masterfully takes us through an intense whirlwind of emotions full of depressed lows, shimmering glimpses of hope, and devastating relapses. After all of it, you just want to give the boy a hug.
2. Kyle Scheible
Who doesn't love a bad boy? To be fair, Chalamet's Kyle Scheible in Greta Gerwig's Lady Bird is downright awful, so let's just say we love to hate him. Chalamet flawlessly personifies the pretentious snob: he speaks in flippant, overly poetic vernacular, takes advantage of girls, bashes mainstream music, smokes only hand-rolled cigarettes, and rants about government corruption. Oh, and he plays bass -- and looks far more attractive than he should doing it.
1. Elio Perlman
You guessed it: Timothée Chalamet's Oscar nominated performance in Call Me By Your Name takes the cake. Despite being of French-American descent himself, Chalamet completely transforms into Elio Perlman, a precocious Italian teenager. Chalamet nails every aspect of the complex role, portraying Elio's development from a reserved, hesitant 17-year-old to a passionate, fearless lover. To prepare for the role, Chalamet spent many rigorous weeks taking piano and guitar lessons and learning Italian; watching the film, it is almost impossible to believe that Chalamet isn't actually a book-reading, music-playing Italian native in real life.
Chalamet doesn't just make a show of playing instruments and speaking foreign languages, though. His portrayal of Elio is raw, earnest, and beautifully nuanced. Chalamet has the character on lock right down to his movements, dancing across the screen with a fairy-like elegance. One moment he's musing whether it is better to "speak or die" with the intellectual maturity of a seasoned philosopher, and the next he's playfully skipping through a lake giving love-taps to Oliver (Armie Hammer).
Most breathtaking of all, though, are the last five minutes of the film, during which the camera focuses solely on Elio as he stares into the fireplace and reminisces over his time spent with Oliver. Chalamet's face becomes a painting, colorful and complex, made up of countless emotions — regret, sorrow, denial, nostalgia, joy, acceptance — and, backed by Sufjan Stevens's song "Visions of Gideon", it's sure to make you cry.
What's Next?
Timothée Chalamet is one of the most in-demand young actors today, so it's no surprise that he's got multiple upcoming roles this year. This month, Chalamet reunites on screen with Lady Bird herself, Saoirse Ronan, for a modern film adaption of Louisa May Alcott's classic Little Women. With the visionary Greta Gerwig directing the pair again, it will undoubtedly be another fantastic addition to Chalamet's filmography. Chalamet will be playing Theodore "Laurie" Laurence, the love interest for Saoirse Ronan's lead character Jo March, alongside a star-studded cast that boasts Emma Watson, Florence Pugh, Eliza Scanlen, Laura Dern, and Meryl Streep.
As for 2020, Chalamet will be in the reboot of Dune, based off of the acclaimed 1965 sci-fi novel by Frank Herbert. Chalamet will star as Paul Atreides, the lead character, along with Zendaya, Jason Momoa, and Oscar Isaac. Chalamet is also set to star in Wes Anderson's The French Dispatch alongside Anderson's usual actor picks, including Frances McDormand, Bill Murray, Tilda Swinton, and, once again, Saoirse Ronan (The pair are shaping up to be the next Leonardo DiCaprio and Kate Winslet). Whatever the future has in store for Timothée Chalamet, we can rest assured that it will be great.