It's no surprise that Oprah and Reese Witherspoon are fans of the popular lifestyle brand, Pudus. After all, they have everything you need to cozy up in style while giving back to worthy causes.
You can get comfy and do good at the same time? Talk about a two-in-one bonus!
What is Pudus?
"Pudus was founded by a brother-sister duo, who first created the brand's signature slipper socks. Since then, the brand has grown to include loungewear, everyday socks, hats, mittens, scarves, and more. The brand is also proudly one of PETA's-approved Vegan Companies," said Pudus.
Shop Pudus here.
Created from the desire to make compression socks comfortable yet stylish, Pudus' products have become the perfect gifts and goodies to make anyone's day. The wide selection available on their website is perfect for a one-stop shop to get everything you need to stay warm and comfy.
By purchasing their popular socks and slippers, you will receive items made with ultra-plush sherpa that make you feel like you are walking on clouds, and their vegan scarves, mittens, and hats are crafted with the softest faux cashmere.
The Pudus Project
Everything there is to love about Pudus doesn't end there! With their commitment to provide to others in need, the brand launched "The Pudus Project" initiative.
The best part about The Pudus Project is their collaboration with Covenant House, whose mission is to put an end to homelessness and give relief to at-risk youth. Through this collaboration, Pudus will donate one pair of socks per pair that is purchased from the collection.
The Pudus Project Collection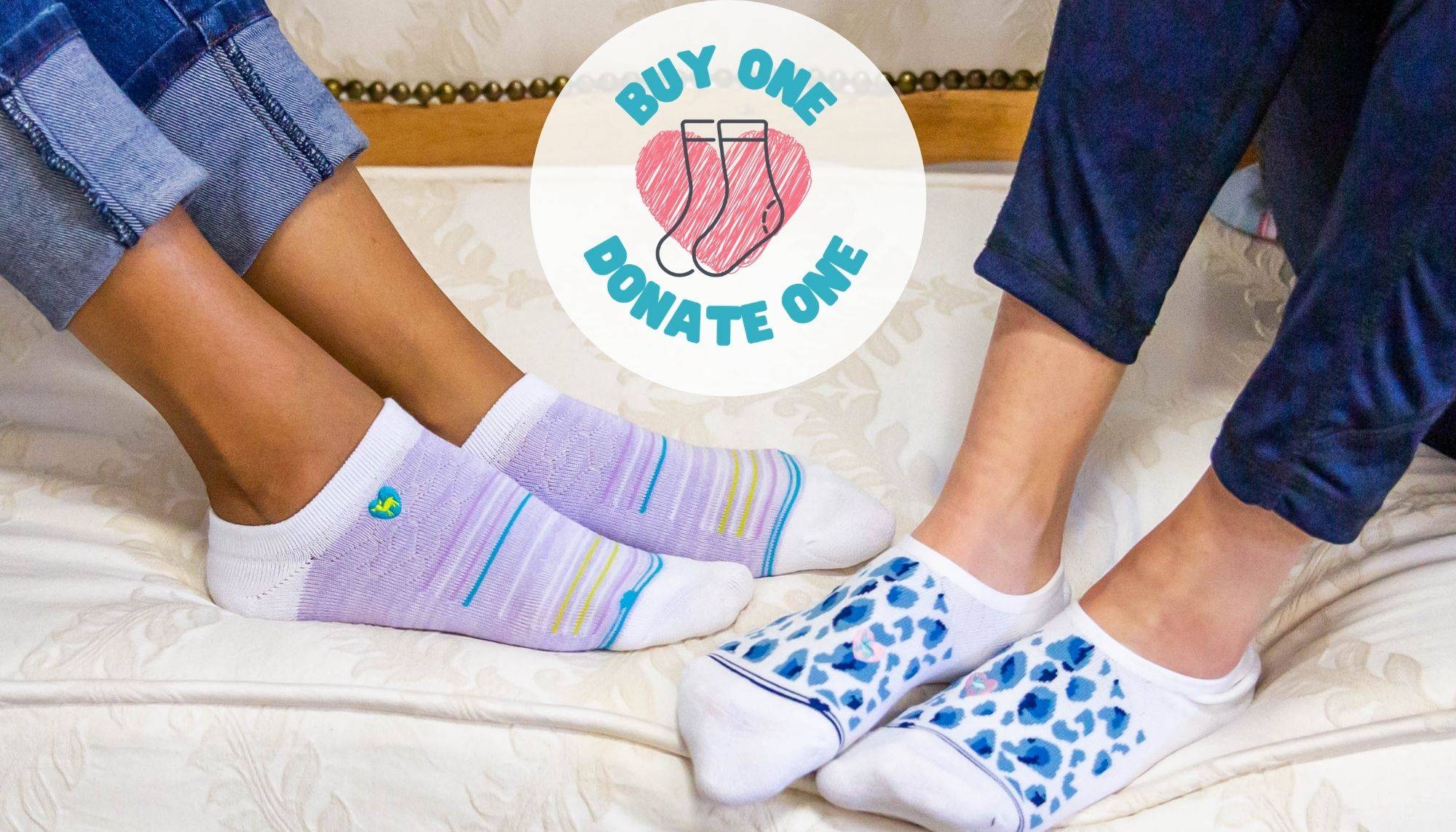 Shop the collection for Pudus' buy 1 give 1 initiative here.
Perfect for everyday use, these socks from the Pudus Project collection are made of bamboo fibers which are super soft and breathable, while being eco-friendly. With different prints and lengths available, we decided to share some of our favorites from the collection!
Midnight Black: Everyday Ankle
Shop for this product here.
If you are looking for a plain and simple sock that pairs well with any outfit, the midnight black color in the everyday ankle style is exceptional.
I am loving the lightweight feel of the sock and the small white details to contrast with the jet black hue. This item has an arch support band and terry cushioning to deliver the best of the best!
A Line In The Sand Peach: Uptown Quarter Crew
Shop for this product here.
Feeling peachy? In comparison to the everyday ankle, this pair is Pudus' version of a crew sock, which has a nice, beachy touch to it! They are super comfy and compliment any look.
My Heart Is Blue: Comfy Ankle
Shop for this product here.
You heard it from me first: this pattern is to die for! With little hearts over a dusty blue color, these socks also have a white heel and toe accent. For those that have dealt with the pain of blisters on your feet, you can finally feel relief with the additional comfort heel tab.
Seaside Grey: Comfy Quarter Crew
Shop for this product here.
This comfy quarter crew style is definitely a must-have! It has a striped design that is in purple, white, and blue for pops of color. There is also terry cushioning on the heel, toes, and footbed for maximum comfort.
Pudus x F Cancer Initiative
Along with the amazing buy one, give one initiative, Pudus went the extra mile and created a line of slipper socks and hats in partnership with F Cancer.
The F Cancer foundation has resources, programs, and events, while their goal is to work on cancer prevention, early detection, and giving emotional support to those who have been affected by the disease.
Through this special collection, a portion of sales will be donated to help F Cancer find a cure.
The Pudus x F Cancer Collection
Shop the whole collection here.
Classic Slipper Socks
With extra fluffy lining and slip-proof silicone grippers, the Pudus x F Cancer Classic Slipper Socks come in pink, black, and multi patch.
Shop the Classic Slipper Socks in pink here, in black here, and in multi patch here.
For those who want to go for the minimal look, opt for the pink and black options that come with the small F Cancer logo.
On the other hand, the multi patch design is great for those who want some added detailing— they have the cutest graphics ever!
Beanie Hats
The Pudus x F Cancer beanie hats have the same plush fleece inner lining as the slipper socks and a yarn pom pom to top it off.
Shop the Beanie Hats in pink here, in black here, and in multi patch here.
In addition, the different colors to choose from match the socks— so you can purchase both for a coordinating set! For the simple options, there is the peachy pink color and black, which both feature the F Cancer logo.
For the multi patch style, there is an assortment of F Cancer patches that gives a unique twist to the classic accessory.
Stay Cozy All Day, Every Day
With Pudus, there are so many options to choose from! You can shop all the Pudus products on their website from a price range of $13 to $125.
This publication is a sponsored press article. Mentioned prices are accurate and items in stock as of the time of publication.
All images courtesy to Pudus.