Have you been disappointed with yourself recently? I know I have. Although it may sound dumb, I was upset that I wasn't placed in a higher math course at a school I recently was accepted into, IMSA. I made higher expectations than I could reach, and I was, to say the least, mad at myself. I ended my freshman year with a 3.9 GPA, making that frustration even higher for a perfectionist like myself. As silly as that sounds, little things like these can easily anger us, and it's important to think about what you can do to motivate yourself to be a better person.
No matter how your life is right now, chaotic, filled with homework, or just plain happy, motivation is always welcomed warmly into your life. Now that most schools are getting close to the end of the year, people tend to drop their work ethic in homework assignments now that summer is within hands reach. But it's always important to have that motivation to finish strong! However, sometimes having that motivation is hard. Sometimes, I think of it very specifically, thinking If I don't try on this homework assignment, then it'll probably just drop my grade one or two percent. I mean, it's not that much, and I want to get home!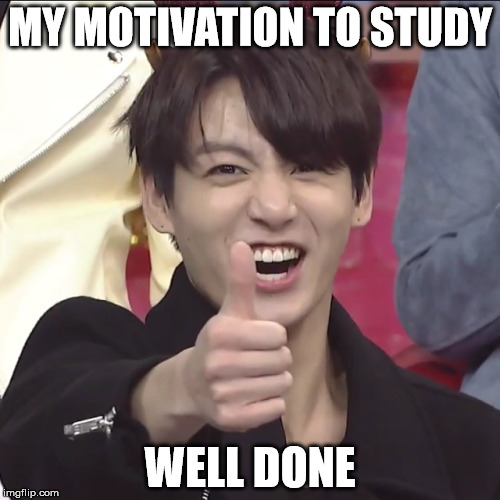 For some students/non-students who just need a little dose of motivation, here's a little story! The motivational story is about the South-Korean pop group BTS or the Bangtan Boys. Their story is a great example of how motivation and passion can get people to places like these. BTS is a seven-member group comprised of seven people (Rap Monster, Jin, Jimin, Jungkook, Jhope, V, and Suga) and they debuted their first song in 2013. It was a single part of the album "2 Kool 4 Skool", which wasn't very popular at the time. Big time groups such as Big Bang were taking the spotlight, and the newbie group under the company BigHit were slowly gaining fame just to be brought down. Their image of being "too cool for school" quickly drew criticism, and they didn't make much money at all. At that time, many members were struggling with themselves. Jimin had begun to starve himself mainly because he didn't like his body and he wanted the members to have enough to eat. Suga had suicidal thoughts and social phobias, and Jungkook was the youngest member, leaving his family at age 14. The others had to give up many other things, and their past had begun to haunt them.
BTS had very few views on youtube, they were happy when about 150 fans came to see them at their fan meet whereas thousands would flock to see other bigger groups, and one time they only made 300 gifts for their fans (something generously kind because no other group did this) and 350 came. They were, to say the least, very surprised. They wrote letters to all 300 fans and gave them food when they had nothing to eat themselves, worrying that they would be hungry because they waited at the fan meeting for so long. They called each other brothers and went to bed every night believing tomorrow would bring a better day, and with their hard work and passion, they skyrocketed in the next few years. In 2014, BTS released a couple of very popular songs. "Danger" and "Boy In Luv" quickly topped charts all over Korea, earning them the fame they deserved a long time ago. Their popularity began to rise as they were invited to be judges for dancing, invited to KCON in Los Angeles, and many more. They stuck together the entire time, smiling every second for their hard work paying off.
2015 was the year that the spotlight went towards them. "I Need U", a hit single, was immediately a top 5 hit on the Gaon Digital Chart in South Korea, and their other song "Dope" was their first music video to hit 100 million views on youtube, which sent them to win their first ever Music Video MV award. As they continued to win award after award, the fandom only began to grow. Their album "Wings" hit over 500,000 preorders the day it was launched. 2016 became their footstool for success. They won Artist of the Year at the annual MAMA Music Awards, being the first group not from SM, YG, or JYP to do so. Their hit song, "Blood Sweat and Tears" achieved an all-kill, hitting number one in ALL of the charts in Korea. And at the end of the day, it was their passion and motivation to do well for the fans that drove them here.
Now, it's 2019. I can't even begin to list the recognition they've gotten, and the awards they've recieved is endless, including their fourth major win at the Billboard Music Awards! Their collaborations with huge names, such as Juice WRLD, Halsey, and Steve Aoki have landed them with major fame and popularity here in the USA as well as in Korea. They've sold out concerts in Rose Bowl, MetLife, Soldier Field, and to put this into perspective, it took Taylor Swift 3 months to sell out the Rose Bowl Stadium. It took BTS a whopping 90 minutes to sell out 90,000 seats! Think about that for a bit.....
Either way, the lesson here is how did a group, who barely managed to eat a meal a day, land to buying gucci for fun and selling out stadiums around the world? Maybe it was luck. Maybe it was perseverence. At the end of the day, passion overtook everything, and they continued on, even when they were at their worst. They refused to give up, and it landed them here. I can't even begin to explain how proud I am, and how proud I am to be an ARMY, the BTS fandom.
I hope this story may have given you a bit more motivation on what you can do, whether it's gathering energy to complete school or something else in your life. Have a great day everyone!