Bubble tea, also affectionally called "boba," has taken the world by storm. Its popularity is growing exponentially in North America, with the bubble tea market expected to reach a whopping $4.3 billion by 2027. With its signature mouthwatering, creamy texture and just enough of that sugary flavor to satiate those who usually dislike the bitterness of regular tea, who could resist? The tapioca pearls are a bit of a nice touch to the already pleasant consistency, and its unique taste is likely how boba skyrocketed to fame.
The range of different flavors might also be why boba is so popular. It's estimated that there are around 250 varieties of boba! With so many of these different flavors, placing your order while you frantically skim the menu can be overwhelming. Here's a guide to the ten most popular boba flavors this year, so you can order your drink with confidence.
1. Black Milk Tea
In the vast sea of different boba flavors, black milk tea is one of the most popular choices. Considered to be an "original," this well balanced drink is thought to have originated in Taiwan in the 1980s. A sweet, gelatinous taste combined with the chewy texture of the tapioca pearls makes this flavor a delightful choice for any day. Made with black tea, milk, and sweetener, you can't go wrong with this classic.
2. Strawberry Milk Tea
Compared to the other choices of boba, strawberry milk tea offers a much more delicate flavor. Made with green tea, strawberries and milk, this version offers the same creamy consistency that other flavors have, but with a fruity touch. Apart from its taste, its aesthetic also contributes to the drink's popularity.
Its trademark light pink hue coupled with the tiny bits of strawberry makes this beverage an Instagram-worthy capture. A fair warning, though: Adding too much sweetener can drown out the strawberry flavor, while including less sugar makes the strawberry much less noticeable.
3. Lychee Tea
Compared to most of the other flavors on this list, lychee tea is more of a summer refreshment than your regular choice of boba. This drink has a fruity, light taste to it. Though less intense than other flavors like mango or pineapple, the lychee still offers plenty of flavor, making it a dainty and gentle refreshment perfect for a hot day.
4. Matcha Milk Tea
The perfect drink for all seasons, matcha milk tea is a beverage suitable for any and all occasions. The thick, creamy texture combined with a light taste of matcha makes this choice a comforting winter drink and a light summer refreshment. If you have a sweet tooth, adding honey to this beverage will elevate the flavor. Otherwise, if you prefer a more gentle or lighter drink, include less sugar/sweetener.
5. Rose Tea
Neither fruity nor creamy, rose tea has a gentle, floral taste to it. Add milk, and you'll get a nice and silky consistency perfect for a summer day. Though the flavor may be a bit unexpected, it's undeniable that this flavorful beverage has a rich, airy feel to it, giving it a unique yet pleasant feel.
6. Taro Milk Tea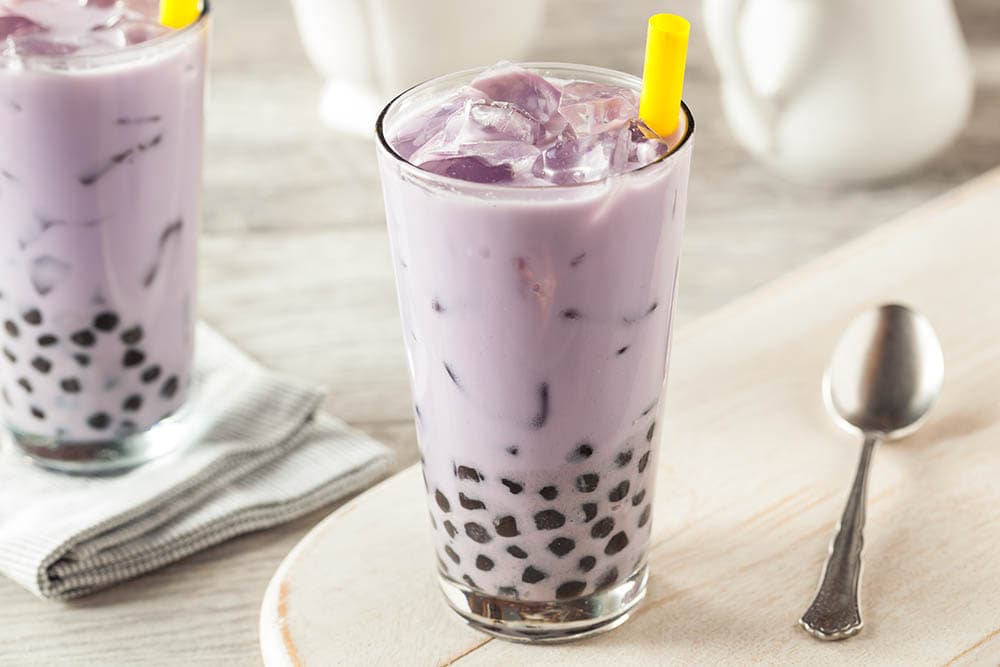 For consumers who prefer a less "artificial" drink that's naturally sweet, taro is the way to go. Even without any sweetener, taro provides a surprisingly noticeable amount of flavor. Its taste is similar to that of a sweet potato, with a bit of a nutty trace.
Both of these flavors are enhanced by the milk, which gives the beverage a silky, smooth texture. Even if you choose not to add sugar, this drink is still one of the most delectable flavors of boba out there.
7. Thai Milk Tea
In simple words, Thai milk tea is a sweet beverage that carries a bit more weight and adds a twist to the conventional flavor of vanilla. Rich in flavor, the boba version of the regular Thai tea will definitely catch your eye. Though the two are extremely similar, the tapioca pearls at the bottom add to the continuous consistency of a regular Thai milk tea, making the boba variety a much more exciting prospect.
8. Wintermelon Tea
A light, refreshing drink, the flavor of this beverage embodies the season of spring. It has an almost distinctly grassy taste to it, and doesn't carry too much weight. Its taste can be compared to that of a cucumber, vanilla, or even caramel. In addition to its delicious taste, the fruit is also popular for its medicinal properties.
9. Coffee Boba
Coffee is undeniably a staple in most Americans' diets. Make a boba version of it, and business will boom. This flavor is essentially a regular latte, but with a thicker consistency.
If you want to elevate this drink to another level, add extra syrup or sugar for a richer taste. Combine that with some tapioca pearls, and you've got yourself a mixture that will keep you coming back for more.
10. Brown Sugar Milk Tea
Brown sugar milk tea, also called mudflip or tiger milk tea, is one of the most popular and appreciated choices of boba out there. Whether it's the creamy texture or simply its aesthetic, there's no denying that this drink is a fan favorite. Syrup is drizzled around the cup, and the tapioca pearls for this beverage are infused with brown sugar. Add black milk tea into that mix, and you have a sweet, caramel-like beverage, perfect for every occasion.
Trying out these flavors can be a great start if you're new to boba. Its unique pearls and variety of flavors are, without a doubt, what makes bubble tea so addicting. Whether you're in need of a refreshment on a hot summer day, or you're searching for a comforting drink on a winter night, boba can and will definitely satiate your needs. Enjoy!