Yes. That's it, that's the answer.
Netflix took the internet by storm when it released season one of Bridgerton. Period balls started popping up all over TikTok, Bridgerton-inspired outfits were seen on my for you page, and actors/actresses we may have never noticed before made their way into our minds and our screens. Needless to say, the book-to-show adaptation is here to stay, and they proved that with the release of season two in March 2022, one year and three months after the first season. It has now been four months since its release and it exceeded our expectations, with many people preferring it to the first season, including me. If you haven't seen it yet, maybe because you didn't enjoy season one, or you don't like historical fiction, or for whatever reason, here's why you SHOULD watch the Sharma sisters in season two.
A Brief Summary
From Shondaland and creator Chris Van Dusen, the second season of Bridgerton follows Lord Anthony Bridgerton, the eldest Bridgerton sibling and viscount, as he sets out to find a suitable wife. Driven by his duty to uphold the family name, Anthony's search for a debutante who meets his impossible standards seems ill-fated until Kate and her younger sister Edwina Sharma arrive from India. When Anthony begins to court Edwina, Kate discovers the true nature of his intentions — a true love match is not high on his priority list — and decides to do everything in her power to stop the union. But in doing so, Kate and Anthony's verbal sparring matches only bring them closer together, complicating matters on both sides. Across Grosvenor Square, the Featheringtons must welcome the newest heir to their estate while Penelope continues to navigate the ton whilst keeping her deepest secret from the people closest to her. (Bridgerton Wiki)
The Sharma Sisters
The trailer alone was enough to get my heart beating and put a smile on my face. The tension, the drama, and even the costume designs and lighting, all came together to create an enticing show worth watching. But I want to talk about the Sharma sisters first. With these two sisters, Netflix was able to explore the pressures of being the eldest daughter in an ethnic household. The pressure to find Edwina Sharma a suitable husband, due to unforeseen circumstances (watch to find out), ultimately rested on the shoulders of Kate Sharma. Kate taught Edwina to be twice as much as her counterparts, which is a sentiment a lot of us can relate to. And it's this pressure that drives a lot of Kate's actions and also creates tension between her and Anthony for the whole season.
The Sharma sisters also brought much-needed South Asian representation to our screens. They weren't othered in the writing by constantly mentioning their race and making them seem undesirable, as the mainstream media typically likes to do. Their Indian heritage was simply a part of their identity and mentioned in passing comments, comments that resonated with South Asian viewers. In different scenes, we see nods to Indian culture. The family take part in a pre-wedding ritual; Kate massages oil into Edwina's hair; she also sneaks herbs into her English tea to make it taste more like the tea she drinks back home. Such seemingly unimportant scenes added depth to their characters and acknowledged their heritage without making it appear abnormal. It was just the Sharmas being the Sharmas. Scenes like this are wonderful to witness on screen, and I would love to see them more in the media.
Kanthony
My father raised me to act with honor, but that honor is hanging by a thread that grows more precarious with every moment I spend in your presence. You are the bane of my existence, and the object of all my desires. - Anthony Bridgerton
Now, we can't talk about the season without mentioning the main love interests, Kate and Anthony. Here we have an enemies-to-lovers storyline, a book trope that readers just cannot get enough of; and now we see it translated to our screens again. Edwina needs a worthy husband who will give her the love match she desires, but Anthony isn't looking for love, he's looking to fulfil his duty. Here lies the conflict of interest between Kate and Anthony, the foundation of their rivalry. And yet, Edwina sees no one else she wants other than Anthony the Viscount, despite being warned of his intentions. She is quite naive and sheltered in that way.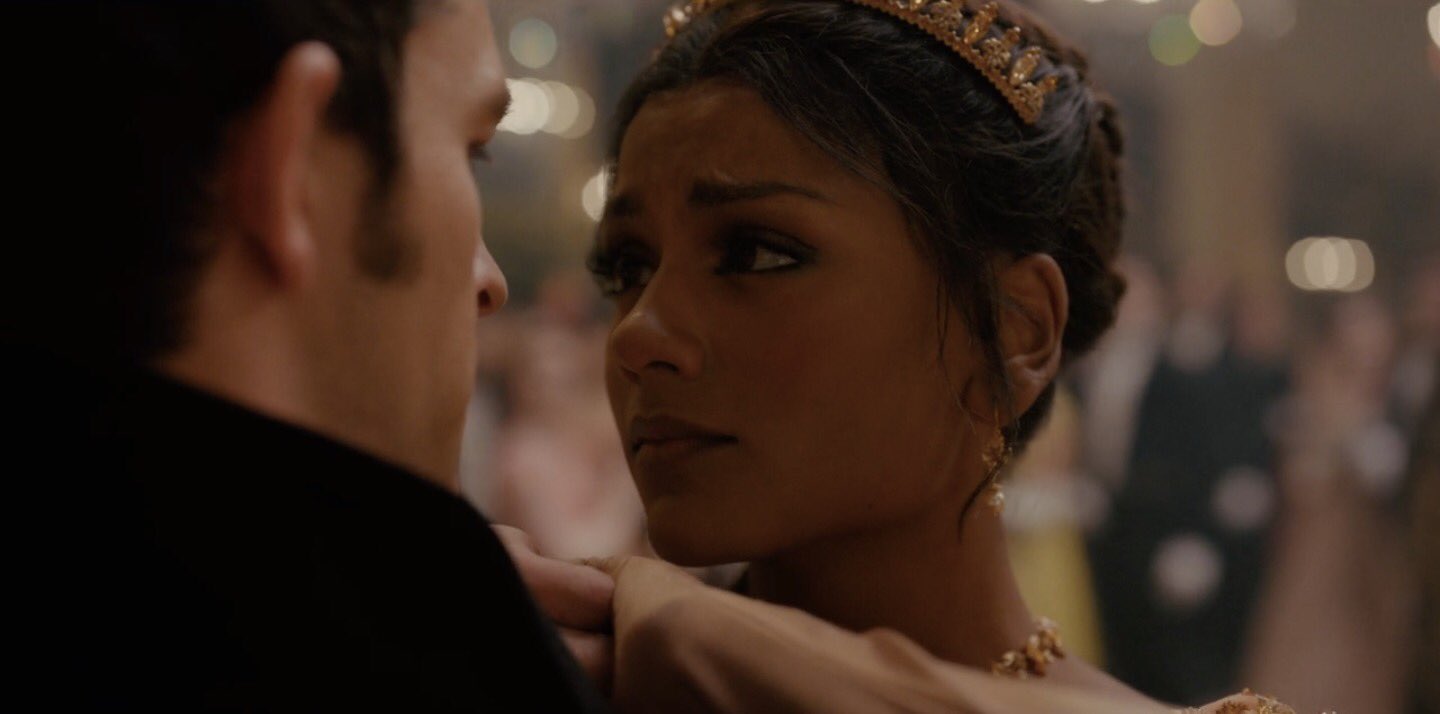 But their rivalry goes deeper. The two characters seem to pull something from each other that would shake up everyone involved, and most importantly, Edwina. So here lies the forbidden romance. With these two conflicts at the forefront of this storyline, we have a screen full of such breathtaking tension. Simone Ashley (Kate Sharma) and Jonathon Bailey (Anthony Bridgerton) did extraordinarily well, conveying the tension between those characters throughout the season. The subtle touches, the quick glances, and even the way they breathed in the presence of each other created such anticipation and greed in viewers, wanting to see the two together more.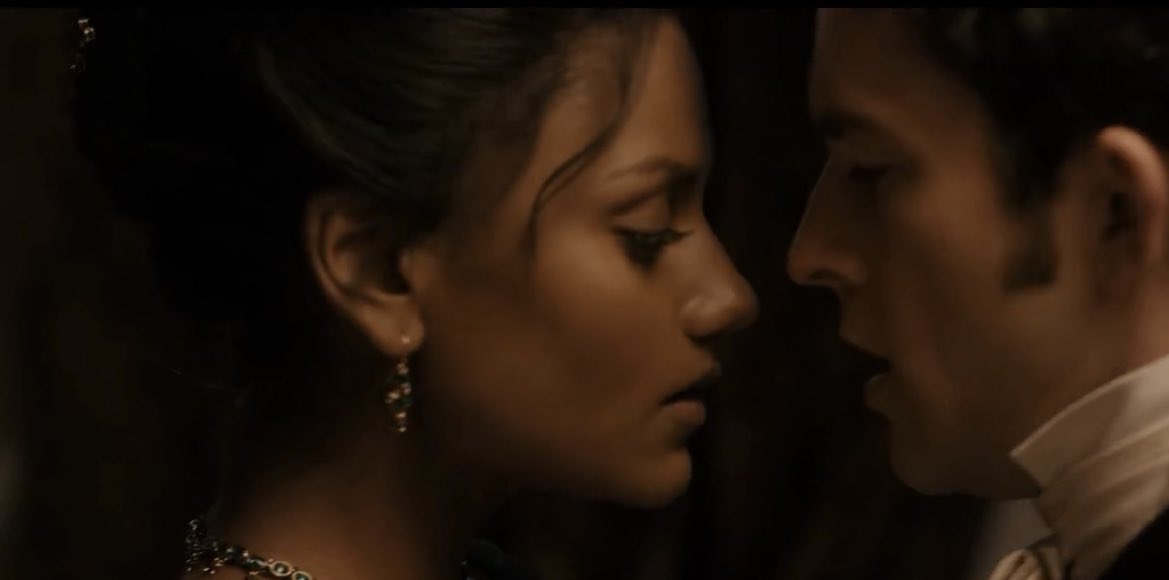 The directors and all those involved in the filming of this season absolutely knew what they were doing. In the scene where I pulled that quote above, the tension is palpable. The lighting creates a warm atmosphere of secrecy and lust. With the camera angles, behind-the-shoulder shots and close-ups of their faces, we are drawn into their moment with them. And Anthony, his whispering. The way his voice drops to a whispered yell, just adds the perfect amount of spice to the moment that just demonstrates the traction and lust between the two of them. I'm sure we can all agree that eye contact can be very stimulating and that we can speak with our eyes. In this scene, the conversation between their eyes said a lot about their connection, and we were blessed to be privy to it.
Watch it!
There's so much more I could say about this season, so many moments to mention and pictures to include, but I don't have enough words to cover the masterpiece that is that season. There are other side plots, with Eloise debuting in society, the race to find Lady Whistledown once again, the featheringtons with a new man in the house, among other side plots. But the only thing you need to takeaway from my lovestruck ramblings is that season two is most definitely worth the watch.
Yours Truly,