What better way to spend time with your besties than to bond over movies?
Whether you're wanting something to watch at night at a sleepover or want to make a movie marathon of the best chick flicks then this list full of girl power, comedy, and complete cheesiness will make you and the girls eager to hit play.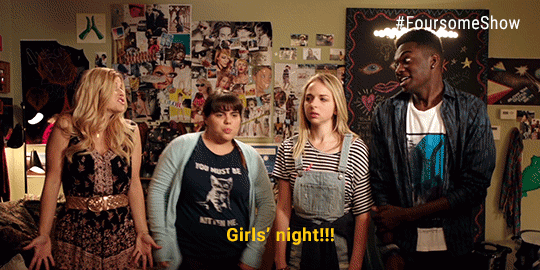 Wild Child
An out-of-control American diva meets an English boarding school, do opposites really attract?
Malibu Poppy Moore is sent away to Abbey Mount to be straightened out and while on first arrival she wants to get out, she ends up realizing she wants to stay even more.
Realizing the difference between fake and real friendship, this movie embraces friendship and how important doing the right thing is.
Legally Blonde
What better movie to promote female empowerment than Legally Blonde?
Sorority girl, Elle Woods wants to win back her boyfriend (who dumped her because she wasn't smart enough). Elle proves everybody wrong by succeeding at Harvard and becoming a better Lawyer than anybody in her class.
A truly glamorous take on success, no other movie is quite like Legally Blonde!
The Duff
You either love or hate this movie, there is no in-between. While it is completely cheesy, it still provides a great message.
The D.U.F.F message also known as "Designated, Ugly, Fat, Friend" makes people learn to love what others call flaws and not compare themselves to others.
Learning to love yourself for who you are and all your quirks is the main theme around this movie, and it's a go too!
Gilmore Girls
Now, I know I said movies, but I had to add in the best female-powered show!
Gilmore Girls is based upon Rory and Lorelai, the iconic mother and daughter team who tackle living in the small town Stars Hollow. All the drama, boyfriends, schools, and parents this is the best show to (attempt) binge with the girls.
You could even try throwing your own Gilmore night and recreate some of their snacks and takeout food while enjoying the show.

The Sisterhood of the Traveling Pants
Four best friends split apart over one summer to find romance, solve family dramas and learn lessons, but they are bonded together over a pair of pants that strangely fit all of them.
The pants travel between the girls throughout the summer and that's how they all keep in contact. No better movie shows the importance of friendship and how your best friends will always pick you up.
No matter the situation or how far whether it's across the country or across the globe your friends will always have your back when you're together!
How To Lose a Guy in 10 Days
This is more of a romantic film, but I couldn't miss adding it on here since it's one of my favorite movies to watch with my group of friends.
Andie wants to make a mark on her work and instead of writing about what to do while dating, she wants to write about what not to do while dating. She goes against the norms and does everything girls shouldn't do when dating.
What she doesn't know is Benjamin also has a bet going where he needs to get her to fall in love with him.
A twisted but hilarious take on romance, this movie will make everybody laugh, cry and then laugh again.
Clueless
An iconic 90s classic!
Cher and her best friend Dionne take on the new girl as a project and make her turn into one of the most popular girls at school. It's Cher's ultimate mission to find a guy for the new girl Tai and while some guys don't make it work, some will cause an upset in Cher's life and her friendships, but she'll realize she was in love the entire time.
Clueless is a timeless fashion-filled film!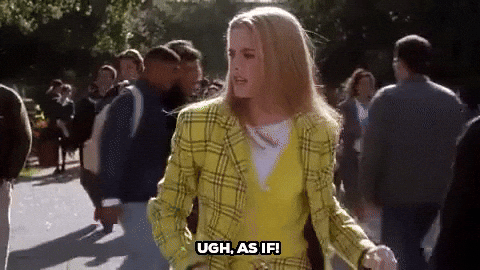 Mean Girls
Do I need to explain why this movie is on here?
Totally a must-watch with the girls if you haven't seen it with them a million times already. Nothing says girls' night without watching Mean Girls once.
Cady's new to the school and wants to fit in with the "It girls", the plastics… as a joke. She happens to enjoy fitting in with them a little too much and her original plan made by her friends to ruin them goes pear-shaped when she becomes one of them.
Mean Girls is filled with comedy, drama, and a little too much pink (but only on Wednesdays!)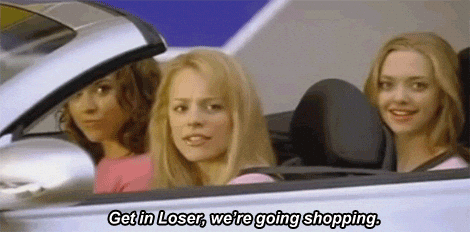 She's The Man
She's on the now cut soccer team, but she can play just as well as the boy's team...girl power at its finest. Viola has to disguise herself as her twin brother at his new school to prove to her couch that she can play with the boys, as a boy just as good as she could when she's a girl.
This comedic movie is one to definitely add to your list.
There's nothing like spending time with the girls, kicking back, and watching some funny, empowering, dramatic and iconic movies.
After this list, I believe a movie night is due. Send out the message to the group chat and gather all the snacks you can, and you're suited up and ready for a mega chick flick movie marathon!