As summer comes to a close, many high school seniors have already begun the application process for college. While the US has thousands of incredible colleges to choose from, the UK is also home to some of the highest-ranked and most beautiful universities in the world. If you are considering applying to a UK university, there are a few major differences in the application process, teaching style, and student life that you should be aware of. As a former California resident and full-time international student at the University of Exeter in southwest England, I've compiled some information I wish I had known during my application and decision-making process.
General Information
One of the biggest differences between US and UK universities is the time it takes to complete a degree. A bachelor's degree takes only three years in the UK as opposed to the four-year programs US universities offer. This is primarily due to the differences in the structure and style of teaching. In the UK, there are no general education requirements, meaning the courses you take are exclusively focused on your degree. That being said, you cannot apply to university in the UK with an undeclared major; you must know exactly what you want to study when you apply. If you wish to pursue a flexible course that allows you to pick and choose directions throughout your study, a UK university is not well suited for you.
The style of education in the UK is focused and intense, but there is very little requirement for consistent attendance or commitment to coursework. The courses are very lecture-based, with only a few homework assignments throughout the term, if any at all. It is not rare to have a class where your entire grade is based on one final exam. Having no homework sounds appealing on the surface, but it requires a lot of self-discipline and self-teaching to keep up in class, and your level of stress during finals will likely be through the roof.
While education isn't cheap in the US or the UK, tuition is government-regulated in the UK and tends to be less expensive, even for international students. There aren't defined public, state, or private universities in the UK, but there are certain group equivalents. As an example, in the US there are the Ivy Leagues, and the UK equivalent to this is the Russell Group Universities, which includes the top universities in London, the University of Oxford, University of Cambridge, and my own University of Exeter, just to name a few.
UK Grading Scale: https://www.soas.ac.uk/studyabroad/current/file77182.pdf
Applying

Applying to university in the UK is arguably a much simpler and quicker process than applying in the US. A student will apply to several universities at once via the Universities and Colleges Admissions Service, or UCAS. This website is not dissimilar to the Common Application in the US, though there are some major differences. You do not need to submit separate essays for each university in the UK you apply to. Instead, you write one personal statement that is sent to all the universities you select, but you can only apply to five majors total. As an example, I applied to five majors but only four universities, because I applied for two different majors at the University of Exeter.
UK universities do not require you to submit your GPA, but instead, a combination of ACT, SAT, SAT Subject Test, and AP test scores, depending on the requirements of your university. It is best to ask a member of the university's international recruitment team to help understand what grades you will need to achieve. In the UK, you are judged more heavily on your grades and the quality of your personal statement (UCAS essay) than on what extracurriculars you have done. Some universities have an added interview process or placement tests, so be sure to check the requirements when you apply.
The application process for UK universities typically starts a bit later than for US universities, as the deadline for Oxbridge (the University of Oxford and the University of Cambridge) and medicine majors is October 15th, and for all other courses is January 15th. There are three responses you can receive from universities in the UK: Unsuccessful, Conditional Offer, and Unconditional Offer.
Unsuccessful is rather self-explanatory; your application was declined. An unconditional offer is immediate acceptance into the university, much like a normal US university acceptance letter. A conditional offer is an acceptance with some further steps necessary. As an example, I received a conditional offer from the University College of London requiring a 5 on my AP Government test. This meant that I needed to get a 5 on my AP test in order to be accepted, and if I did not get a 5 then I would be rejected. Because I received three unconditional offers, I decided not to take the AP test and accepted my offer at the University of Exeter.
Request Help From an Advisor: https://www.studyacrossthepond.com/ucas-application
Qualification Information ACT: https://qips.ucas.com/qip/usa-act
Qualification Information AP: https://qips.ucas.com/qip/usa-advanced-placement-ap
Qualification Information SAT and Subject Tests: https://qips.ucas.com/qip/usa-sat-and-sat-subject-tests
Student Life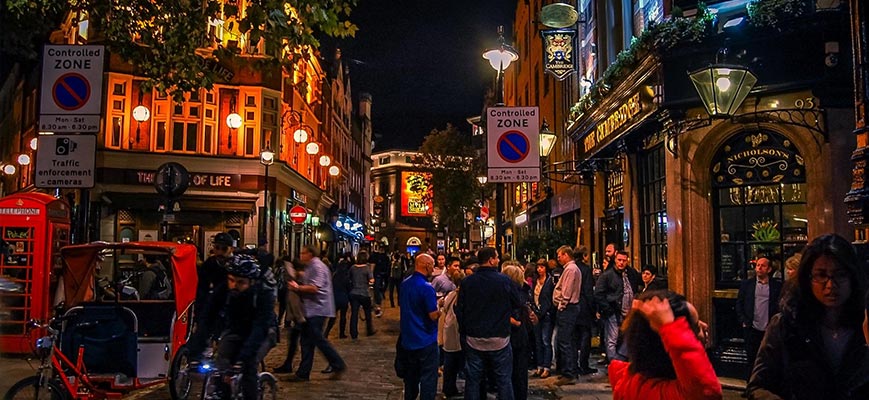 Students stay in student halls or student accommodation during their first year and tend to move into a house off-campus for their second and third years. Student accommodation in the UK is similar to dorms in the US, but there is more variety. If you choose to be in self-catered halls, you may share a flat with other students and have your own room with a shared bathroom, kitchen, and living space. In catered halls, you may have your own room with a shared bathroom, or your own room and bathroom; it is relatively rare that you have a roommate.
One of the major differences in student life in the UK is the lack of Sororities and Fraternities. Instead, students meet new people through societies and sports clubs. There are academic societies as well as societies for common interests. As an example, J.K. Rowling is an alumni of the University of Exeter, so there are a lot of Harry Potter societies on campus. Societies tend to have socials once a week and meetings or activities throughout the month. Because the legal drinking age in the UK is 18, most students spend a lot of time at pubs, bars, and clubs, but there are plenty of societies that do "sober socials" rather than going out every week.
Whether you are in a big city like London or Manchester or end up in the Lake District or Devon, there is plenty to explore. Many universities have "day trip" societies where you can explore the areas around your university's city or the city itself with a group of fellow students. You are surrounded by history and beauty wherever you go, from Medieval castles and the Neolithic Stonehenge to the biggest music festivals and most successful soccer teams, the United Kingdom's history and culture is unmatched.
Similar to NCAA (National Collegiate Athletic Association), the UK has competitive leagues for most sports, including some US sports such as basketball and American football, called BUCS (British Universities and Colleges Sport). Sports clubs typically have a few competitive BUCS teams as well as casual intramural teams, so all levels of play are welcomed. I have met all of my closest friends and my housemates through EULFC (Exeter University Ladies Football Club) by playing for the BUCS team as well as the fun Sunday league team, so I would highly recommend looking into a sports club or society right away.
List of BUCS Sports by University: https://www.bucs.org.uk/compete/sports.html