Strawberry, banana, and berry are famous smoothie flavors everyone has tasted and loved. While they are a popular choice for many, there are always ways to change them and put a new spin on them. That's the fun part about smoothies: mix any fruit or vegetable together and ta-da! The combination may turn out to be even more delicious than your favorite berry smoothie.
Doing this takes a lot of trial and error though, and finding a tasty new match may be challenging. So, I've found 10 aesthetic recipe ideas for making quick and healthy smoothies.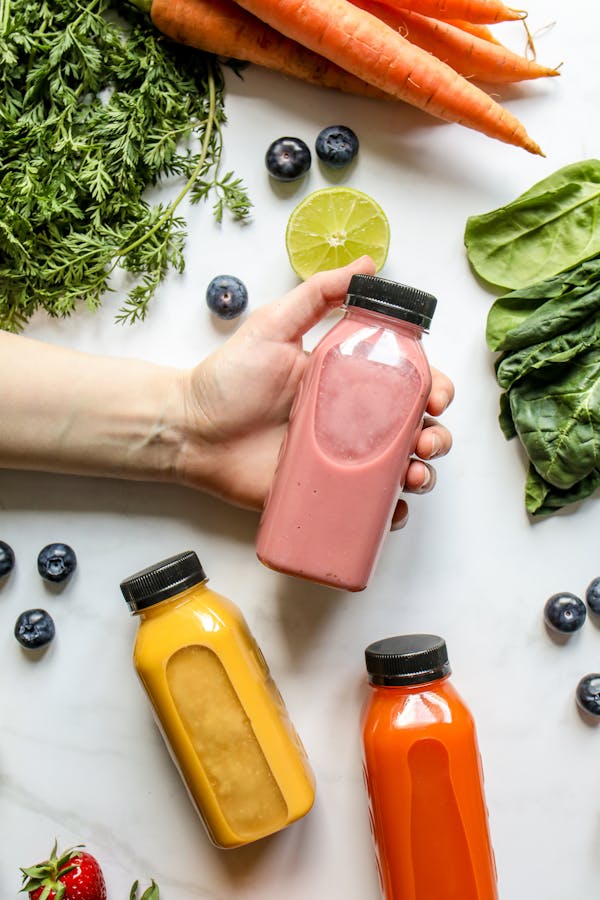 Photo Credit: Polina Tankilevitch on Pexels
Pumpkin and Eggnog Smoothie
Photo Credit: Pariwat Pannium on Unsplash
With autumn around the corner, why not start with a pumpkin-themed smoothie? This pumpkin and eggnog smoothie can be made in the morning before going to school, or in the afternoon when you need a healthy pick-me-up before tackling a huge pile of homework.
Ingredients
2 eggs
250 ml of milk (almond or soy milk if you want a vegan drink)
250 ml of plain yogurt
125 ml of pumpkin puree
23 ml of honey
3 ml of vanilla extract
1 tablespoon of pumpkin spice or ground cinnamon to top it all off
Source: 1000 Juices, Green Drinks and Smoothies by Deborah Gray
Cucumber and Apple Smoothie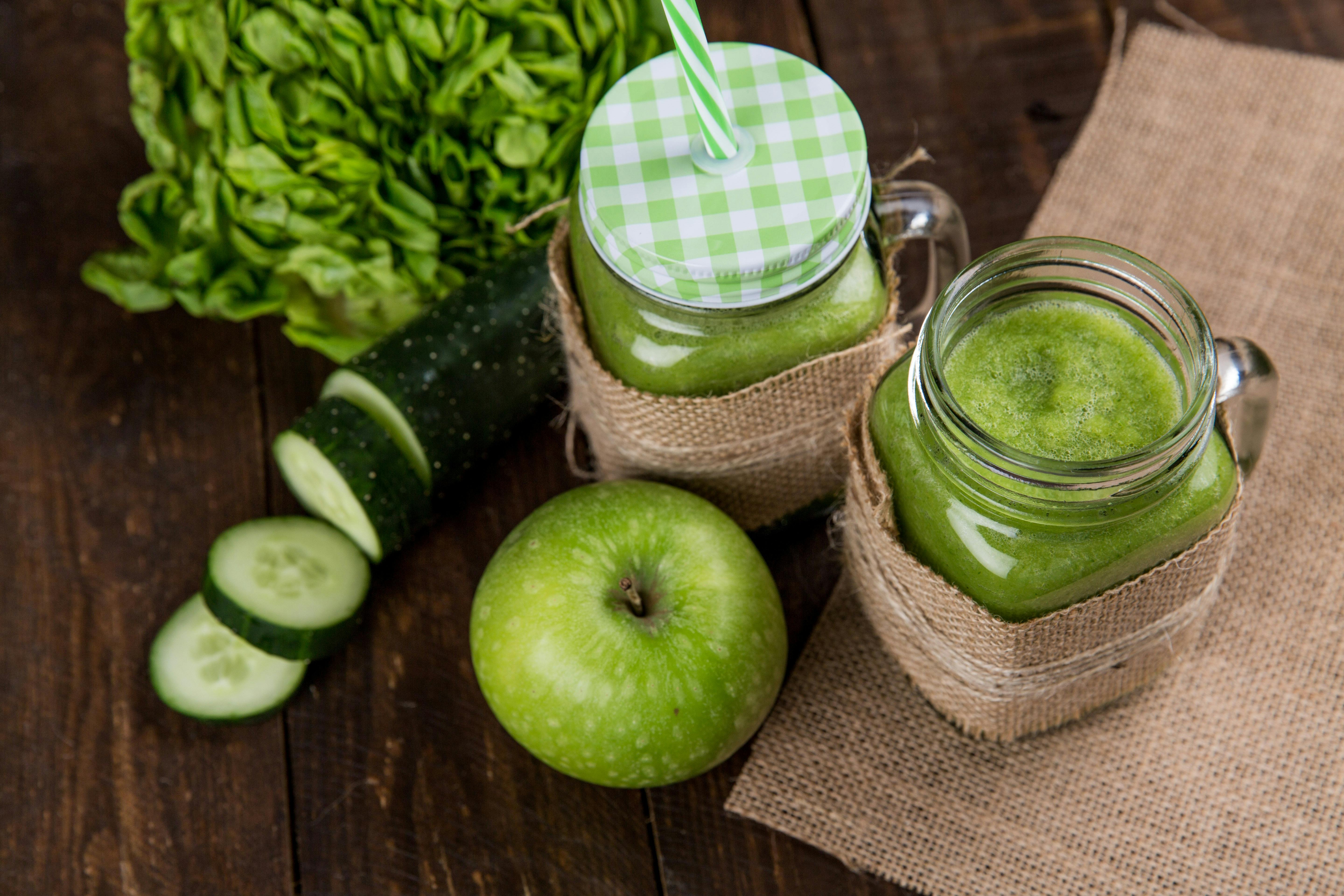 Photo Credit: Toni Cuenca on Pexels
Cucumbers are well known for being a refreshing snack that improves intestinal health. So for this smoothie, why not combine this vegetable with a fruit that compliments it perfectly, like green apples? This drink needs nothing more than a blender and a few ingredients to be prepped.
Ingredients
1 cucumber (with its skin peeled off, the outer edges cut away, and the rest of it chopped)
2 green apples (remove the core and cut the rest of the fruit into smaller cubes)
1 lemon
1 slice of ginger
1/2 cup of parsley
1 cup of coconut water (or regular water if preferred)
Optional: 1 tablespoon of honey (for a sweeter drink)
Optional: 1/2 cup of flax seeds or oats (for an extra nutritional boost)
Source: Cucumber and Apple Winter Smoothie by Carleen and Green Apple Lemon Cucumber Ginger Smoothie by Skinnytaste
Orange and Banana Smoothie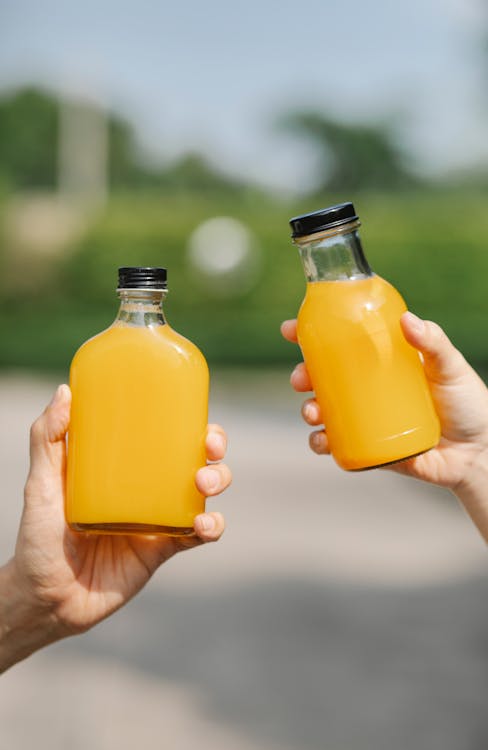 Photo Credit: Charlotte May on Pexels
If you love the taste of oranges and bananas, then you will certainly enjoy this smoothie! Like the previous recipe, it requires very few ingredients (all of which can be easily found at your local grocery store).
Ingredients
2 bananas
1 orange (you will need orange juice and orange zest)
1/2 cup of yogurt or milk (keep in mind, yogurt makes the smoothie have a thicker texture compared to milk)
Optional: 1 avocado (you can add an avocado for a thicker texture and an overall healthier drink)
Source: Banana Orange Smoothie by Texan Erin Baking
Blueberry and Spinach Smoothie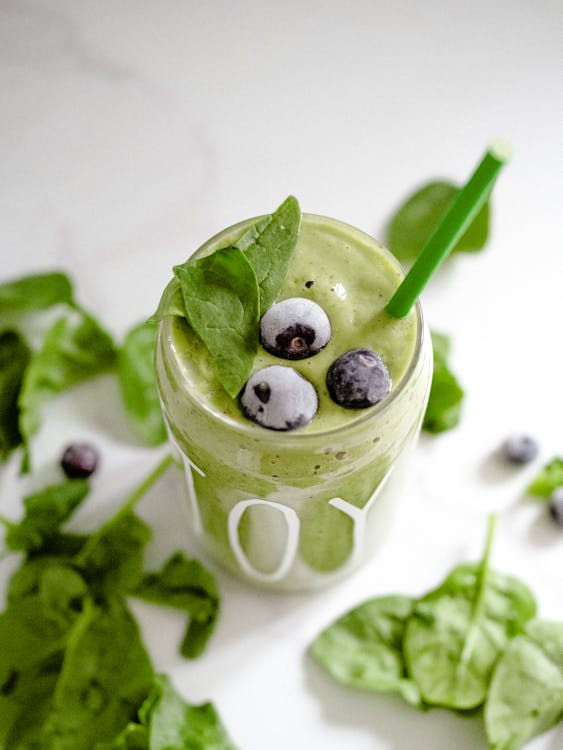 Photo Credit: Lisa Fotios on Pexels
Blueberry and spinach—who would have guessed they went well together? Believe it or not, they do! The reason for this unexpected combination is simple: you most likely won't taste the spinach. This is because its taste is overpowered by that of the blueberries. Adding a bit of spinach to your smoothie makes it way healthier for your body too, since it's high in vitamins A, C, and K, as well as nutrients like iron and potassium.
Ingredients
1 cup of frozen blueberries
1 cup of spinach
1/4 cup of oatmeal
1/2 cup of yogurt
1 tablespoon of honey (or maple syrup)
1 tablespoon of ground flaxseeds
Source: Blueberry Spinach Smoothie by Erin Clarke
Mango and Dragon Fruit Smoothie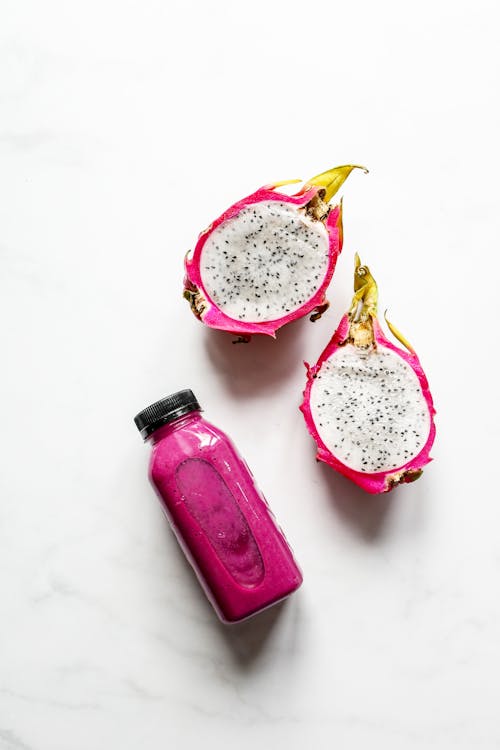 Photo Credit: Polina Tankilevitch on Pexels
Searching for a refreshing summer drink? Then look no further than the mango and dragon fruit smoothie! It's a great way to increase your fruit intake while also acting as a hydrating drink during the hot summer months. Not to mention, its stunning pink color is amazing for Instagram pictures!
Ingredients
1/2 cup of frozen dragon fruit
1/2 cup of frozen mango
1/4 cup of fresh strawberries
1 1/2 cups of milk (of your choosing)
Optional: 1/4 cup of mint leaves
Source: Mango Dragon Fruit Summer Smoothie by Sonila Zarate
Kefir and Berry Smoothie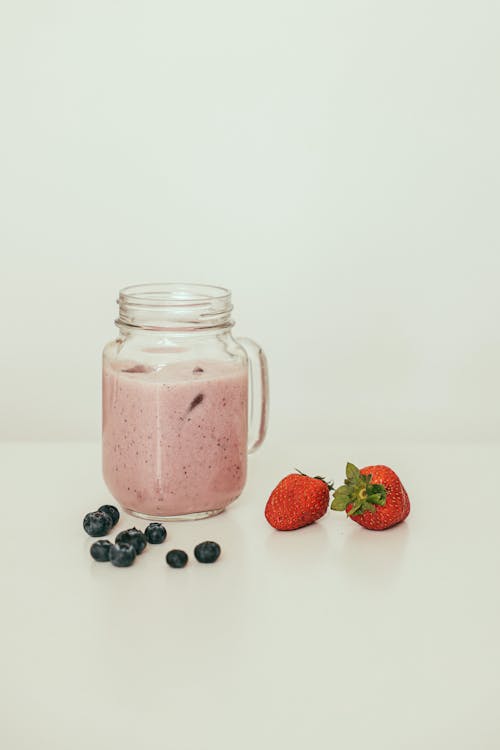 Photo Credit: Cup of Couple on Pexels
We all know and love the classic berry smoothie. However, there is a much simpler and healthier take on it: instead of using milk or yogurt, exchange it for a cup of kefir! Kefir is a fermented drink, with a consistency like that of drinkable yogurt. What's great about this product is that it can be made from dairy milk or any vegan alternative, so anyone can drink it. Kefir is also extremely healthy because it helps with digestive problems and improves your immune system.
Ingredients
1 1/2 cups of frozen berries
1 cup of plain kefir
2 teaspoons of almond butter
1/2 teaspoon of vanilla extract
1/2 of a banana
Source: Berry Kefir Smoothie by Breana Lai Killeen
Pomegranate and Grape Smoothie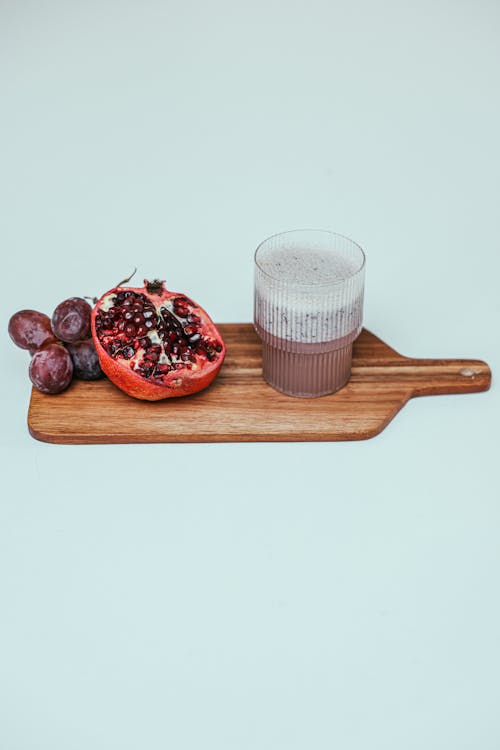 Photo Credit: Cup of Couple on Pexels
Pomegranates have numerous benefits. These include strengthening your immune system, steadying your blood pressure, and aiding digestion. Did I mention they also give you glowing skin? Therefore, adding pomegranate juice (or even the seeds) to your grape smoothie will give you a well-deserved health boost.
Ingredients
1 bowl of grapes (any color)
1 bowl of pomegranate seeds
1/2 cup of yogurt
1/2 cup of milk (whatever kind depends on your preference)
1 teaspoon of rose essence
1 tablespoon of honey
Optional: 1/4 cup of rose petals (to make your drink as aesthetically pleasing as possible, and also to include their various health benefits)
Source: Grapes Pomegranate Smoothie by Geeta Sachdev
Kiwi and Lemon Smoothie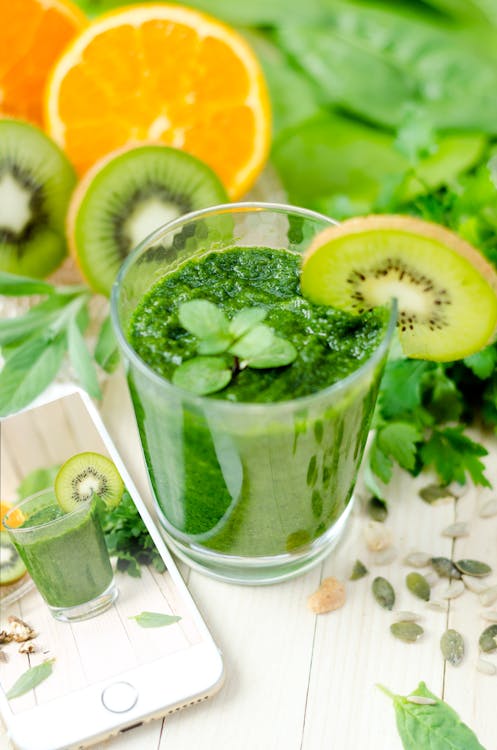 Photo Credit: Alexander Mils on Pexels
This kiwi and lemon vegan smoothie is another great summer refresher. It can be made in just five minutes! If that taste is too plain on its own, you can add a pear to your smoothie. This fruit in particular pairs well with the two others in this drink, resulting in a killer combination.
Ingredients
2 kiwis
1 tablespoon of lemon juice (the fresher the better)
1 tablespoon of honey
1/4 cup of chilled coconut water (milk would also work well)
Optional: 1 pear
Source: Kiwi Lemon Smoothie Recipe by Radhika
Radish and Peach Smoothie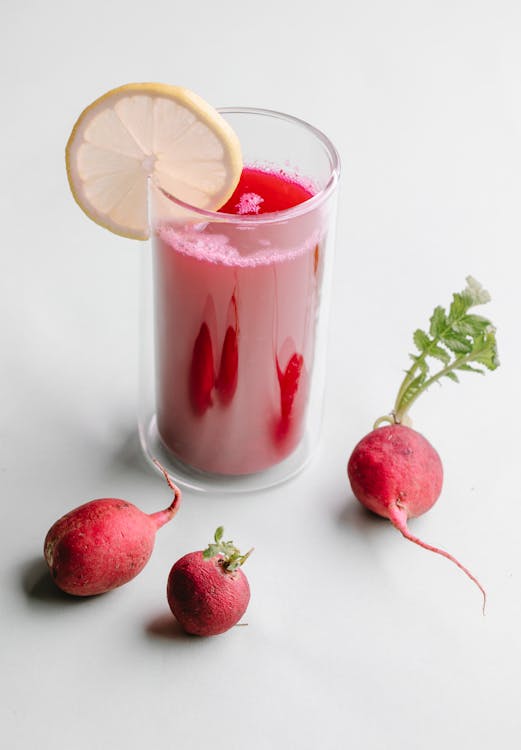 Photo Credit: Charlotte May on Pexels
Radish roots contain vitamin C and a considerable number of antioxidants, which make them the perfect addition to this peach drink. Even raddish leaves can be used, since they contain vitamins A and B in addition to nutrients like potassium, iron, and calcium.
Ingredients
7 radishes
1 peach (chopped)
1/2 cup of milk
1 tablespoon of yogurt
3 fresh mint leaves
1 tablespoon of ground cinnamon
Optional: Add more peaches or honey if you want the drink to be sweeter
Optional: 1/4 cup of radish leaves
Source: Radish Peach Smoothie by Alma
Raspberry and Chia Smoothie
Photo Credit: Kelly Scott on Unsplash
Chia seeds are high in fiber and contain antioxidants. They also reduce health conditions such as heart disease and high blood pressure. Therefore, they can be added to any smoothie to give it an extra nutritional kick; this includes the very well known raspberry smoothie!
Ingredients
1/4 cup of frozen raspberries
1 cup of milk
1 tablespoon of chia seeds
1 tablespoon of honey or 1/4 cup of dates (as a sweetener)
Source: Raspberry Banana Chia Smoothie by Nicole
Toppings to Make Any Smoothies Extra Fun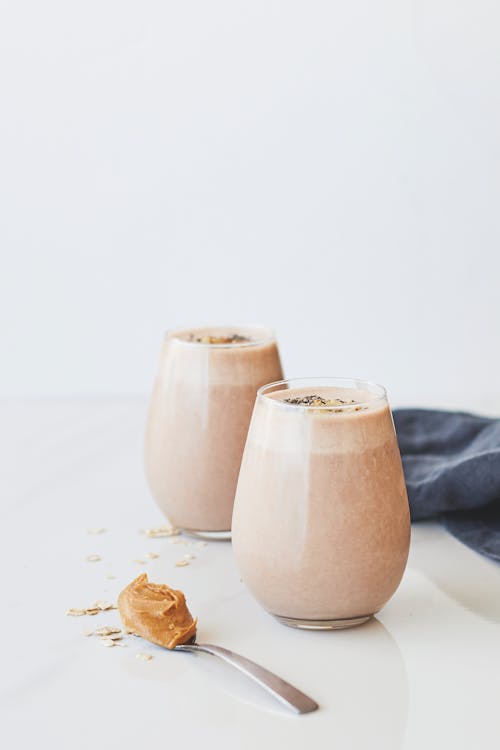 Photo Credit: Leah Rolando on Pexels
Another amazingly effortless way to make your smoothies more creative and tastier is by adding toppings. Their wide variety makes them a great addition to any drink. Here are a few of my most loved toppings that make any smoothie extra special:
Peanut butter

Chia seeds

Slices of banana

Slices of strawberries

Berries (blueberries, raspberries, blackberries)

Slices of peaches

Chopped nuts (pecans, walnuts, almonds, and cashews)

Diced mango

Diced pineapple

Dried coconut flakes

Granola
Add-ins for a Healthier Drink
Photo Credit: Polina Tankilevitch on Pexels
Many ingredients can be added to your smoothies for a healthier drink. It was briefly mentioned above, but here is a more in-depth guide on some of the products and their benefits:
Dates: a healthy vegan replacement for sugar.

Ground flax seeds: they contain fiber and omega-3 acids, which improve your digestive health.

Hemp seeds: these seeds are a rich source of nutrients which reduce stress and improve heart and brain health.

Oatmeal: oats contain fibers that reduce the risk of heart disease and diabetes.

Chia seeds: chia seeds are high in fiber, and reduce blood pressure as well as chances of heart disease.

Sliced nuts: most nuts contain many vitamins and minerals, as well as omega-3 fatty acids.
Personally, I add these ingredients to my smoothies because of their numerous benefits. For example, I make sure to include hemp seeds in my drinks during hectic exam weeks since they reduce stress.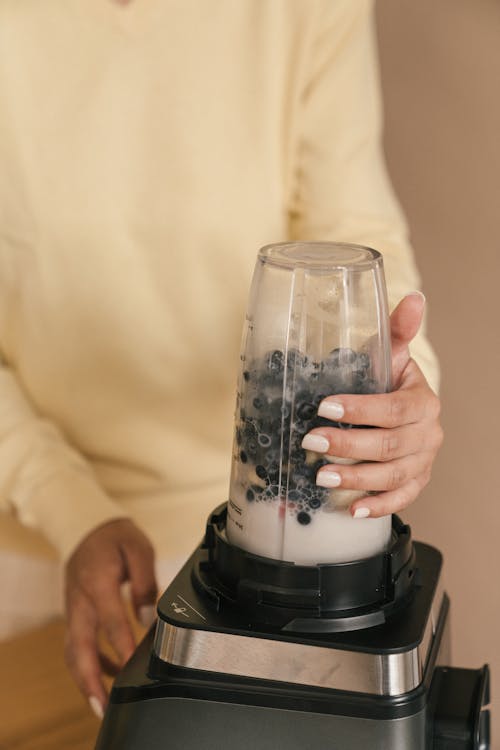 Photo Credit: Mike Jones on Pexels
The 10 recipes listed above are adaptable to accommodate everyone's needs, and can be easily personalized! Smoothies are not only a fun way to spice up your meals and snacks, but help improve your overall health. So, be sure to give these smoothies a try and enjoy these delicious drinks!