When you think of summer treats, watermelons may immediately come to mind. Every season, people enjoy it the same way: in slices. However, it might just be time to mix things up with 5 new ways to enjoy your very own piece!
1. Watermelon Fruit Salad
This easy, delicious fruit salad is a fun way to spice up your watermelon recipes. The best part? You can add any variety of fruit you want! It's quick, it's easy, and it's a great dish to share.
For the salad, you'll need...
half a watermelon (cubed)

15 strawberries (halves)

1 cup of blueberries

1 cup of blackberries

a few leaves of sliced mint
For the dressing, you'll need:
2 tablespoons of honey

2 tablespoons of lime juice

1 lime (zested)

1 tablespoon of olive oil
Combine your fruit and mint together in a large bowl. In a separate bowl, mix together the honey, lime juice, lime zest, and olive oil. Drizzle over the fruit and mint.
Gently mix together, and try not to break your berries! Grab a fork and a friend, and enjoy your fresh watermelon salad!
2. Watermelon Sorbet
It's summer, and there is always ice cream in the freezer. Until that one ill-fated day, when there's none in sight and grocery shopping won't be for another four days. That's where this easy five-minute recipe comes in. Introducing the Watermelon Sorbet!
You'll Need...
4 cups of frozen watermelon (cubed)

1 tablespoon of lime juice (Freshly squeezed is best!)

1 to 2 tablespoons of maple syrup (depending on your sweet tooth)

1 to 2 tablespoons of water (as needed to help consistency)

a large food processor
In the processor, add your frozen watermelon and lime juice. Turn on the processor, and process it until it has the consistency of shaved ice. Add maple syrup to taste, depending on how big or small your sweet tooth is, and process it again.
Taste it to make sure it's exactly what you want! To make the watermelon sorbet smoother and more "scoopable," you may need to add water. Start with just a tablespoon, and process it. Repeat until it looks smooth to serve.
Grab your family and friends, and serve it right away! It will be a delicious treat on these hot summer days.
Bonus: If you have any leftover sorbet, throw it in some popsicle molds and freeze it! It makes for another easy and delicious treat for later.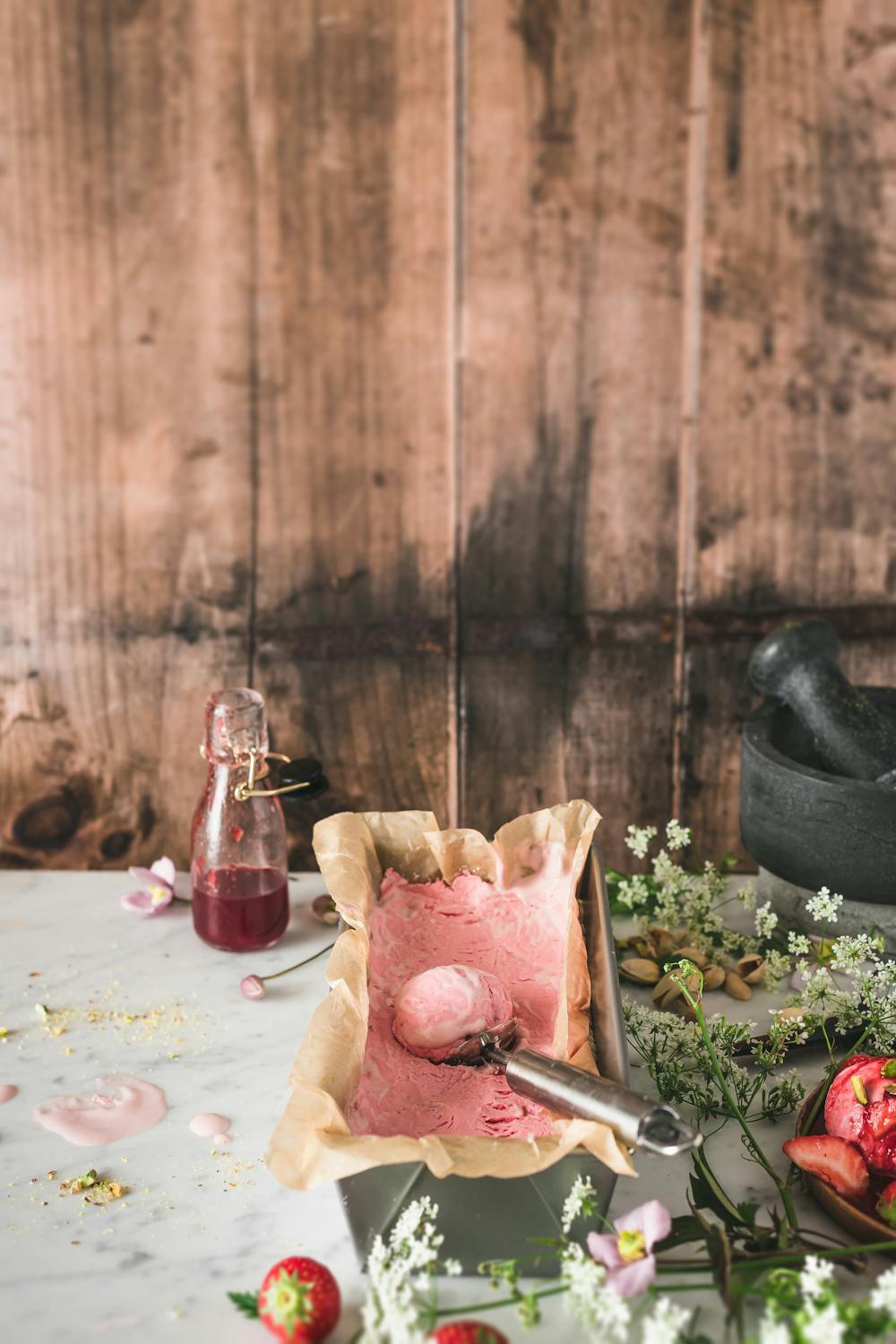 3. Watermelon Fries
Watermelon fries— they sound funny at first. I mean, have you ever even heard of them? Well, now you have. It's a new way to slice and dip your favorite summer fruit.
You'll Need...
a watermelon (of course!)

1 cup of strawberries

1 cup of vanilla yogurt

2 tablespoons of honey
First, slice your whole watermelon into 1/2 inch slices. Using a knife— or, if you want to be fancy, a crinkle cutter— cut your watermelon into fry-sized sticks. Make sure to cut off the rind!
Next, in a blender, blend the strawberries, yogurt, and honey together, till smooth and combined. Throw your fries on a plate, put your dip in a bowl, and set out to eat. Enjoy!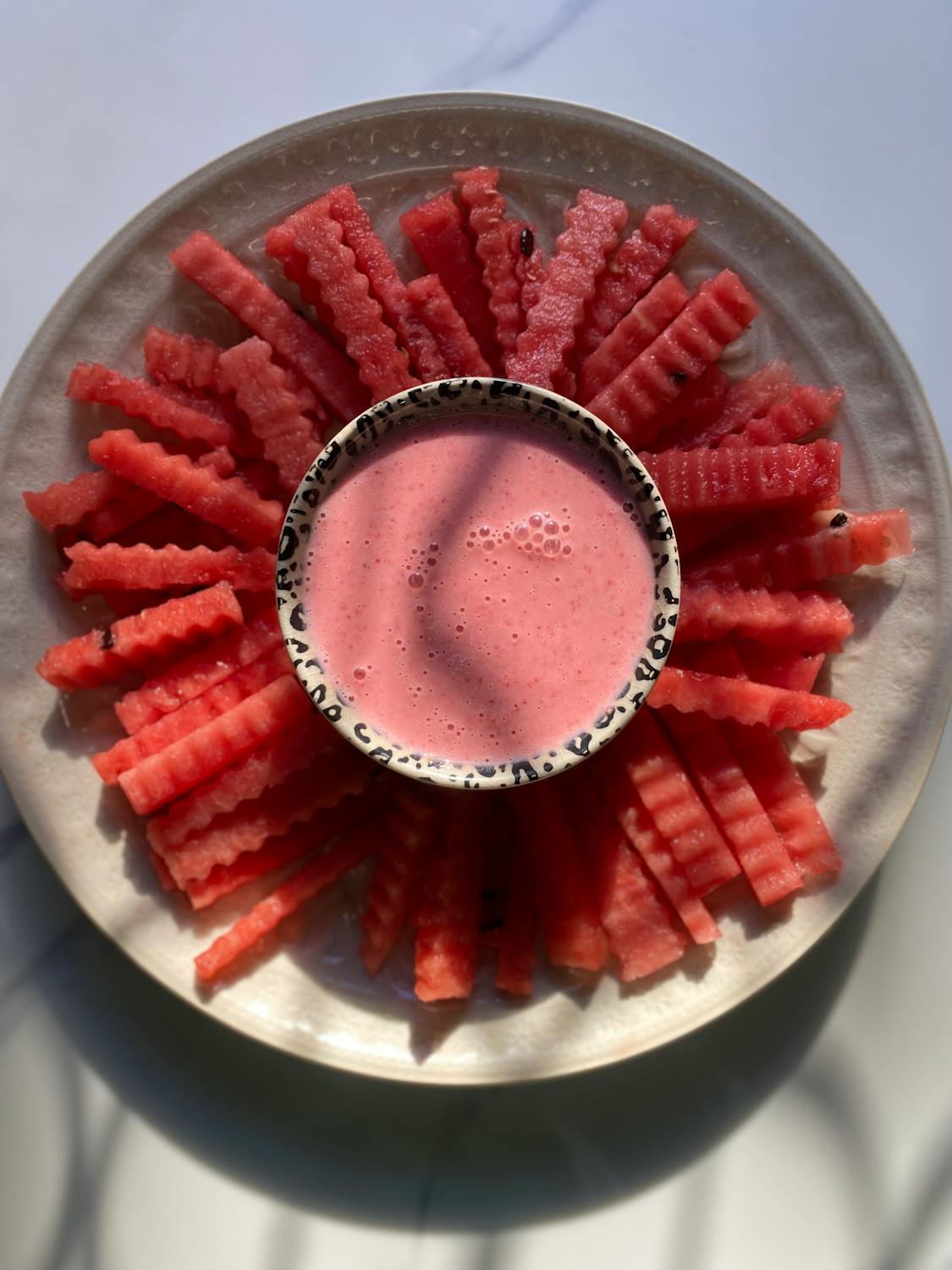 4. Watermelon Lemonade
Are you looking to add a twist to your plain old lemonade? Then just add watermelon! Let's take a dive into this effortless recipe.
You'll Need...
4 cups of chopped watermelon

3/4 cup of sugar

4 cups of warm water

3/4 cup of fresh lemon juice
First, puree the watermelon in a blender. Next, strain your puree to collect the juices. Discard the pulp.
In a large pitcher, combine the sugar and water. Stir until all the sugar has dissolved. Add your lemon juice to the mixture, and stir it again. Finally, add your watermelon juice to the lemonade. Stir until combined. Serve over ice or throw it in the fridge for later! You've now got a new and improved lemonade.
Now you have 4 brand-new watermelon recipes to add to the rotation. And as summer comes to an end, we will be enjoying our watermelon in many different ways, beyond the simple slice. Enjoy!